Rate-Based Modeling
Event

Title:

Rate-Based Modeling

When:

Thu, 3. May 2018

-

Fri, 4. May 2018

Where:

Knoxville Training Site - Knoxville, TN

Category:
Description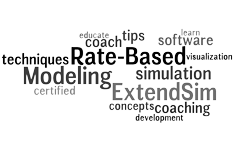 Learn how to use the discrete rate (rate-based) capabilities of ExtendSim AT. Discrete rate modeling simulates rates of flow that change when events occur. This is the most common, and most efficient, method of modeling high-speed, high-volume systems such as packaging lines, mining operations, the manufacturing of powders and fluids, chemical processes, and so forth.
This one-and-a-half day course explores each block in the Rate library and presents modeling techniques such as:

Sources, storage, and units

Defining rates and critical constraints

Methods for merging and diverging flow

Control logic, including goals, hysteresis, shifts, and changeovers

Mixing flow and items, such as for filling and palletizing operations
Prerequisites
Completion of the Essential ExtendSim Training, or, on instructor approval, a comparable proficiency is absolutely necessary before taking this course.

Pricing & Registration
$800 for the one-and-a-half day workshop.
Register at ExtendSim.com/support/training/register.

Course Materials

Laptop computer for each attendee's use

Course manual with case studies

Solution files for all case studies and exercises

Certification of completion
---
Venue
Location:
City:

Knoxville

State:

TN

Country: