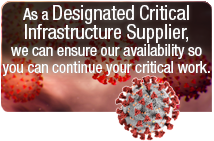 With the constantly evolving COVID-19 situation, one thing you can be sure of is our commitment to continue to provide you with the same uninterrupted, dependable service we have been providing for over 30 years.
As a DHS-identified critical infrastructure supplier, we take our responsibilities to our customers seriously. Though Imagine That Inc. staff is working remotely to abide by CDC guidelines, operationally you will not experience any difference in the support you receive from us. In fact, some of our team members have worked remotely for years in the same secure, confidential environment we are all using now. As a result, we are able to continue to provide you with the same high level of quality and responsiveness that you have come to expect from us. Our Sales and Support staff are still available at the normal email addresses and phone extensions.
Some of you are employing ExtendSim to research scenarios to help manage the current crisis and plan for potential changes to our businesses and future economy. Others are now working remotely but continuing with your normal simulation projects. We want to be sure you have the tools needed to accomplish your task and will do our best to help you during this challenging time. We're all in this together.
Some questions we have been asked to date:
---
---
Please reach out to us with any other questions you might have.