Using Simulation to Design an Emergency Department - Architecturally, Operationally, and Clinically
Healthcare clients capture patient data in every department and with every process. However, hospitals often struggle with using this data analytically to improve their systems. This presentation at the INFORMS Healthcare Conference, discussed how one community hospital used analytics to influence the architectural, clinical, and operational design of its new emergency department.
See the abstract here


Cognitive Process Simulation in Wine Making
A transfer of wine from one side of a tank farm to the other could actually force wine to travel as far as a mile - potentially degrading its quality. Cognitive process simulation has been used to develop a system to move wine from one place to another in its storage facility - increasing quality and plant productivity.
Learn more about how Constellation Brands increased productivity by orders of magnitude.

Have you ever bought a piece of expensive equipment for your factory only to discover there was no net improvement in throughput? This model built by Gray McQuarrie of Grayrock & Associates shows an alternative to doing expensive experiments on your business. True business intelligence is using your mind and this tool's intent is focused on this.
Some quotes from viewers of this video:
"Now this is how one can truly find? out what drives their system, AND provides a tool to test ideas on how to make the system run smooth! Great job!"
"After 40 some years of explaining to people PCB production is way more complicated them 99 percent of peoples minds to comprehend the whole picture we now have a product that will tell people where the real bottlenecks are and how to fix them. So? many pcb shops have so much excess equipment they never use because they never understood the real flow."
"Very interesting! I know a few companies like Chevron, Boeing and Intel have been secretly using this type of technology to get a competitive advantage in? their industry. Congratulations on being the first to help the PCB industry understand their factories in a new and exciting way so we can experiment on our business without costing a fortune."
Half Dome Visitor Use Management: Optimizing Park Operations and Visitor Experiences Through Empirical Evidence

The Half Dome Trail (HDT) hike has long been the setting of an iconic experience in Yosemite National Park. The trail takes visitors up the only route accessing the summit without technical climbing. Over time, it has transformed from a historic multiday wilderness experience to an ambitious, and frequently epic, day hike. This 16-mile (26 km) hike ascending 4,000 ft. (1,219 m) is a significant undertaking that ends with the last 400 ft (122 m) of the ascent exposed and on a cables structure.
In recent years as visitation has increased, numerous search-and-rescue incidents have taken place on and around the cables. This trend led park management to investigate visitor use on the trail system leading to Half Dome, including behaviors on the cables.

Steve Lawson, PhD, Director, Public Lands for RSG Inc. has been using ExtendSim to model visitor use in national parks for over a decade; including models of visitor use at Yosemite, Mount Rainier, Isle Royale, and Rocky Mountain National Parks, Muir Woods National Monument, and the Inyo National Forest.
Dr. Lawson used ExtendSim to model visitor use measurement and monitoring of visitor movements to provide a basis for standards that frame acceptable conditions. Results are compiled in an article written by Dr. Lawson, Bret Meldrum, Nathan Reigner, and David Pettebone and published in the Spring/Summer 2012 issue of Park Science magazine.
Improving Public Safety with Decision Analytics

In a strategic effort to prioritize enforcement and removal operations toward criminal aliens (those individuals illegally present in US with a criminal conviction), Booz Allen Hamilton began supporting Immigration and Customs Enforcement (ICE).
Booz Allen's implementation of analytics spanned three years and involved developing a set of models used to solve challenging problems such as forecasting the number of criminal illegal aliens, optimizing a technology deployment schedule, and minimizing the transportation costs of removal. The impact of the work resulted in a doubling of criminal alien removals, leading to greater public safety for the American people.
In addition, this Booz Allen project, "Enhancing Immigration Enforcement with Decision Analytics" won the Institute for Operations Research and the Management Sciences' (INFORMS) inaugural Innovation in Analytics Award in 2011.

This project was selected by the INFORMS judging panel over almost 50 other entrants for its "creative and unique developments, applications or combinations of analytical techniques" and is that is was designed to "promote the awareness of the value of analytics techniques in unusual applications or in creative combination to provide unique insights and/or business value".
Learn more about how the combination of simulation and multidisciplinary experts can help government excel at achieving important mandates, such as making the country more secure.
Presentation slides of the 2012 winning project from Booz Allen Hamilton can be found on the Analytics Section of the INFORMS website; however you must be a member of the section to view these slides. The Institute for Operations Research and the Management Sciences (INFORMS) is the largest professional society in the world for professionals in the field of operations research, management science, and business analytics.
Visualization and Simulation Tools for Weather Satellites

Northrop Grumman Mission Systems developed tools for the simulation and visualization of National Polar-Orbiting Observation Environmental Satellite System (NPOESS) weather satellite data collection and processing. The Algorithm Timing and Dependency Simulation (ATDS) created within ExtendSim, simulates multiple orbiting weather satellites, data retrieval through global receptors, and weather product generation and distribution...

The combination of ATDS with NOVA, a visualization tool that supports 3D views of astronomical objects, has been used for system performance analysis and demonstrations on the NPOESS weather satellite program.
NOVA can be dynamically commanded to display satellite scan patterns by means of an IP-based text messaging interface. A custom "wrapper" Windows DLL, developed for the NPOESS program, allows the ExtendSim ATDS simulation to access Winsock functions, permitting messaging from ExtendSim to NOVA.
ATDS analyzes processing capacity and memory, evaluates architectural alternatives, and supports cost/quality/latency trades with its unique method of modeling weather science with chains of interdependent algorithms.
ATDS has been successfully used by NPOESS to size the architecture and evaluate cost/performance trades for more than a decade.

Dam Raising Simulations

ExtendSim Consultant Ben Twomey has found that using ExtendSim for dynamic simulation to solve some types of problems can be a very fast solution. Eight hours was all that was needed to build and deliver a two site dam raising simulation that estimated completion schedule as a function of shift structure, hauler selection, and more. ExtendSim provided Ben, "Robust, rapid decision support that a spreadsheet couldn't deliver".
Simulating Global Warming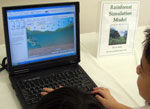 A comprehensive middle school and high school environmental education program coupled with support from the National Science Foundation created an ExtendSim model simulating the effects of rainforest deforestation and agriculture (planting pasture crops) on the amount of CO2 in the atmosphere and on animals living in the rainforest. Hence, the Rainforest Carbon Cycling Model was born...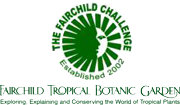 The Rainforest Carbon Cycling Model makes a tropical rain forest come alive as carbon from the air flows through it! Designed for users with no previous modeling experience, this model allows users to delve into 'What if?' sorts of questions about factors that limit forest production and the effects of land-use change on carbon cycling and global warming.
Rainforest Carbon Cycling Model History
Ann Russell, Terrestrial Ecosystems Ecologist at Iowa State University had a dream to develop a model of carbon cycling in a tropical rain forest using ExtendSim energy language model. Using data collected from research in a Costa Rican rainforest, Jim Dailey of Jim Dailey & Associates transformed the data into an animated, bilingual model for children and the general public and called it the Rainforest Carbon Cycling Model.
The model was distributed to 45,000 children in the Miami-Dade County school system through an outreach program organized by the Fairchild Tropical Botanical Gardens in Coral Gables, Florida called the Fairchild Challenge.
Fairfield Challenge Overview
Designed for students of diverse interests, abilities, talents and backgrounds, the Fairchild Challenge is Fairchild Tropical Botanic Garden's environmental education outreach program. With separate but parallel programs for different grade levels 6 to 8 and 9 to 12, the Fairchild Challenge is composed of multidisciplinary competitions aligned with Sunshine State Standards.
The annual Fairchild Challenge options are intended to appeal to students' sense of play and creativity, to encourage them to experiment with ideas, projects and skills and to empower them to seek information and voice opinions. This free program was originally open to all schools in the greater Miami area. As of January 2010, 92 middle schools and 61 high schools are actively participating in the Fairfield Challenge. Other sites are replicating the Fairchild Challenge model nationally and abroad.
Bioenergy Feedstock Information Network
(gateway to a wealth of biomass feedstock information resources from the U.S. Department of Energy, Oak Ridge National Laboratory, Idaho National Laboratory, National Renewable Energy Laboratory, and other research organizations)

This consortium used ExtendSim to create the
Integrated Biomass Supply Analysis & Logistics (IBSAL)
model. This biomass supply chain model starts from defining the logistical features of the supply such as number of farms involved, average yield, the start and progress of harvest schedule, and the moisture content of the crop...

The model also requires daily weather data such as temperature, relative humidity, wind speed, rainfall and snow fall. A spreadsheet containing equipment specifications provides data for calculating service times. This information is used in calculating drying and wetting of the biomass and workability of the soil. The user also defines the safe moisture content for baling and minimum temperature below which farm operations will cease. Once all input parameters are identified, the model calculates costs per ton of biomass, energy input and emissions (CO2) from equipment.
SPICOSA
(Science and Policy Integration for Coastal Assessment)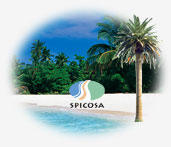 Four year project (to be completed in January of 2011) set up by the European Union. 54 partner institutes in 21 countries are using ExtendSim to study 18 coastal sites in the EU project SPICOSA. This project will assist Europe in its goal of achieving Sustainable Development by developing and testing a conceptual methodological framework for transition in coastal zones. The SPICOSA initiative originates from the fact that coastal systems are under increasing human pressure and policy has not been able to respond properly to the resulting negative impacts on ecological, social and economic systems...

SPICOSA´s overall aim is to develop a self-evolving, holistic research approach and support tools for the assessment of policy options for sustainable management through a balanced consideration of the ecological, social and economic aspects of Coastal Zone Systems (Integrated Coastal Zone Management).
All 18 study sites of SPICOSA are now well underway with the design of their ExtendSIM® models to describe a variety of coastal processes ranging from eutrophication, fisheries, and beach attractiveness to clam culture. A generic model library is a complete set of reusable model components which can be used to (re)build coastal models for new study areas, not much unlike the well-known Lego bricks.
The population of such a model library is one of the key challenges of the project and serves several purposes:
| | |
| --- | --- |
| | existing models are easier to expand or maintain |
| | new models are easier to build |
| | quick exchange of models within the scientific community |
| | avoidance of unnecessary modelling (not "reinventing the wheel") |
The principles of generic modelling have been elaborated during the SPICOSA Cluster Workshops.
For more information about ExtendSim use and its history in SPICOSA projects, read the series of newsletters on the SPICOSA site.
| | |
| --- | --- |
| | SPICOSA (Science and Policy Integration for Coastal Assessment) |
Billet Casthouse Design

Designing a casthouse for billet is a complex activity. The billet casthouse must be properly sized to optimize the metal flow, and continuously feed the homogenization shop, while bearing in mind that oversizing adds no value and is costly. To solve this problem, it is necessary to accurately analyze the operations of the casthouse in real time and this requires a discrete simulation
model....

Gwenola Jaouen of Rio Tinto Alcan Smelter Technology in Voreppe Cedex, France developed an ExtendSim model containing a library that includes all the necessary equipment: conveyors, continuous and batch furnaces, finishing
stations. The model was used to design an expended casthouse which requests the management of complex product mixes and which challenges the robustness and flexibility of the installation. By combining this model with the metal flow sizing model, it was possible to validate the performance of the design and its impact on casthouse operation. This resulted in a shop designed for customer needs, at optimal cost.
Project details were presented at TMS (The Minerals, Metals and Materials Society) 2011 Annual Meeting & Exhibition in March of 2011 at the San Diego Convention Center, San Diego, California.

U.S. Air Force Process Modeling for Intelligence, Surveillance, and Reconnaissance (ISR)


Since 1998, the SRA Adroit C4ISR Center has provided systems engineering and technical assistance (SETA) support to the Air Staff and the Air Force Intelligence, Surveillance and Reconnaissance (ISR) Agency to help plan and manage the Air Force DCGS Enterprise. This includes the one-of-a-kind Process, Exploit, Disseminate System (PEDS) model developed and sustained by SRA. PEDS is a fully executable model of the current
Air Force DCGS enterprise. It enables analysis of various reconnaissance data flows, communications capacities, ground crew composition and other key components. The Air Force has used PEDS to support planning of DCGS involvement in Air Force ISR operations in both Operation Enduring Freedom (OEF) and Operation Iraqi Freedom (OIF).
SRA developed the modeling and analysis methodology using ExtendSim.
Network Service Delivery Point Capacity Analysis

The United States Air Force, in accordance with the Department of Defense's mission to modernize its processes, systems, and information flows, began an effort to replace legacy systems with two Enterprise Resource Planning (ERP) systems (USDoD, 2007a). Nova Technology Solutions (NovaTech), an Information Technology (IT) and Analytics firm, recognized the Air Force's need for a repeatable, reliable, tool to aid decisionmaking during the planning, installation, and sustainment of these ERP systems, thus proposing the use of modeling and simulation...

ExtendSim was used to create a simple simulation model to analyze the impact of ERP increased workload on network performance, specifically at the Air Force Service Delivery Points (SDPs). Many bases faced saturation at 95% during peak hours causing a bottleneck in the communication network. The implementation of the AF ERP systems was expected to cause an increase in traffic through the SDPs. Thus, it was necessary to analyze the capability of each SDP to determine how the increased traffic will affect Air Force (AF) end-users. To analyze the impact of increased ERP workload on SDP performance and enduser response time, a discrete event ExtendSim simulation model was used to simulate the flow of data packets across the AF communications network.
Read Ms. Harper's
complete thesis here
Results from the NovaTech model show that a 15% increase in current workload, or current network traffic, will cause a 250% increase in end-user response time (Fitzgerald & Harper, 2008). Further enhancements were made to the model by Tiffany Jill Harper for a thesis submitted in partial fulfillment of the requirements for the degree of Master of Science in Engineering at Wright State University, 2008. Her thesis, Implementation of Simulation for Network Service Delivery Point Capacity Analysis, showed a 98%, 209%, and 352% increase in response time when the current workload is increased by 10%, 20%, and 30%, respectively. In an experiment investigating the impact of capacity expansion in the model with the double resource SDP, it was determined that for a 30% increased workload a 42.5% increase in SDP bandwidth capacity at the base hosting the application server resulted in a 75% decrease in average end-user response time during the peak traffic hour.
Root Zone Scalability Study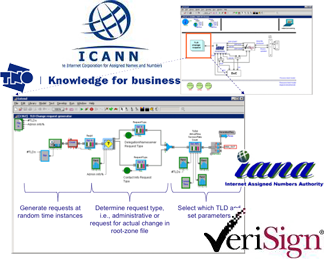 Responding to a request from the Internet Corporation for Assigned Names and Numbers (ICANN) Board, the Security and Stability Advisory Committee (SSAC) and the Root Server System Advisory Committee (RSSAC) commissioned a study of the potential impact on the operation of the root server system of adding IPv6 address records, IDN top level names, other new TLDs, and new records to support DNS security to the root zone...

A team of experts, known as the Root Scaling Study Team, commissioned an independent research organization from the Netherlands, TNO (the Netherlands Organization for Applied Scientific Research) to conduct research into the scalability of the root zone.
The DNS Root Scaling model developed by TNO shows how the different parts of the root server system are related and how changing something in one part affects each of the other parts. The model can be used to quantitatively assess – and therefore prioritize – risks involved when changing the value of one or more variables (e.g., the rate at which new TLDs are added to the root, or the expected frequency of emergency key rollover events in a signed root) on each of the component of the root server system. Partly on the basis of the initial results, ICANN has been advised to temporize and monitor the developments already initiated.
Dynamic Security: An Agent-Based Model for Airport Defense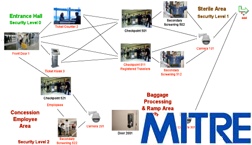 The
Department of Homeland Security (DHS)
shifted the focus of airport security in 2004 to incorporate the need to continuously and rapidly adapt security to shifting threats.
MITRE corporation
has developed a Dynamic Security Airport Simulation as part of a MITRE-sponsored research project in which attacker and defense behavior in the airport environment are modeled...

The simulation accepts threat vectors (path-weapon combinations) from other software or the user and models the performance of the airport defense against those threat vectors. The simulation includes two intelligent agents: the attacker and the defense. These agents model the behavior of those two entities; their logic includes both decision making and learning.

Indiana University Medical Group


Working closely with the nine-physician outpatient clinic staff at the Indiana University Medical Group at Grassy Creek, the MBA class at Purdue University mapped clinic patient and physician flow. By identifying bottlenecks and flow improvement factors, the recommendations they made helped the clinic serve 37 percent more patients on a given day.

Baosteel Technology Center/Automation Institute


Baosteel, the largest iron and steel company in China and a global 500 company, used ExtendSim in a melt iron transportation logistics analysis project. This was the first discrete event simulation project Baosteel built with an off-the-shelf commercial tool. Edgestone Information Technologies Co., Ltd. teamed with the Baosteel Technology Center to lead the project in modeling and analytical experiments producing meaningful results in their capacity expansion evaluation project. Baosteel is pleased with the scalability of ExtendSim and the results of this project.

KLSS under contracts from The Boeing Company developed a number of simulations utilizing ExtendSim.


Depot Process Model
The Depot Process Model was developed to allow simulation of a wide variety of maintenance depot setups and configurations, starting from the same generic model. The model processes and logically controls the movement of vehicles through a depot according to variable task requirements and the availability of resources (personnel, support equipment, parts, and physical space). As data from an actual depot operation is applied to the model, it will assist with the identification of process improvement opportunities which will improve vehicle throughput capacity and platform (tank, aircraft, etc.) availability.

Net-Centric Logistics Land Platform
In addition to the Depot Process Model, KLSS developed the net-centric logistics (NCL) land platform model using ExtendSim. This simulation of the logistics of an U.S. Army's battlefield includes all of the platforms, personnel, logistics, and supplies needed to support a heavy armor company. The model specifically includes spare vehicle parts as well as commodities (food, fuel, water, ammunition). It enables the customer to determine the benefits and explore the implementation of NCL concepts during a wartime deployment. The model also allows for the identification of potential logistics bottlenecks and the measurement of a unit's platform availability and resource consumption.
Both models utilize the functions of ExtendSim's embedded database extensively and its capability to interact with Microsoft Excel for model inputs and outputs.

Hormel Foods Corporation


Over-utilized inventory locations at one of its grocery products facilities was causing problems with Hormel Foods product flow. Product mix and number of supply items had grown creating an imbalance in storage locations for the inventory. Inputing data from a sampling of time, they used ExtendSim to model the different systems that were supplying and demanding material from bay locations at various rates, quantities, and shifts of operation. Hormel was able to determine the best alternative solution while verifying adequate inventory turns, minimizing equipment and material handling costs, and meeting capacity requirements.

Focused_On Health Limited
"We did a very detailed appraisal of the available products and decided to use Extend. Our reasons for this choice were based on the extensive range of general purpose "blocks" available, the sophisticated structure of the internal TimeSet (enabling models of many thousand blocks to be efficiently handled) and the ease with which the general purpose blocks could be moulded to meet specific Health provision needs. A number of years of experience confirms that this was a good decision as the product is advancing and the support can only be described as excellent." excerpt from the Focused_On Health web site.


Emergency Assessment Facility
Focused_On Health built a feasibility model in ExtendSim for North Hampshire Hospitals new Emergency Assessment Centre. The model evaluated staffing requirements, beds, number of cubicles, overall size of the facilities, and future growth. Surveyors and engineers used model results to plan the facility.

Intensive Care Unit - Demand and Capacity Planning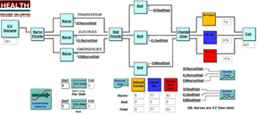 Working with a CCU OutReach Nurse, Focused_On Health built an ExtendSim model showing main PatientFlow pathways in a care unit (Definite MI, Suspected MI, LVF, and Arrhythmia). The FlowModel was built to investigate the impact of bed blockages in the Medical Ward on the ability of the unit to deliver its specialized care.

Modeling Perioperative Systems in a Hospital


Utilizing data from a study containing a large dataset (90,000+ records of 30,000+ patients) culled from hospital patient logs and electronic data collection systems, ExtendSim was used to evaluate alternate process flows, policies, staffing, and resource allocation, for the cases flowing through a renovated space. This level of fidelity increased team buy-in and increased certainty that savings estimates would be real, providing an accurate understanding of resource allocation as it relates to revenue. The effort's positive outcome showed the importance of involving nursing staff and facility administration with the healthcare planning, architecture, and simulation modeling team. The result is improved patient care and patient flow with better use of personnel and other resources.


IBM Global Services Australia - Olympic Program
Sydney 2000 Olympics print distribution was modeled in ExtendSim to determine delivery times, resource requirements, duty rosters, and capacity to meet Service
Level Agreements.


Stennis Space Center
Lockheed Martin has created an ExtendSim model that estimates the cost of testing rocket engines.

Westinghouse Savannah River Technology Center


The Savannah River Site (SRS) deals with dispositioning a substantial quantity of the nation's plutonium. An effort was initiated over a decade ago to model plutonium processing and storage to present to Congress and the Defense Nuclear Facility Safety Board an optimum option for plutonium management in the Nuclear Weapons Complex.
Along with efforts to develop information using spreadsheets, a plutonium disposition and storage model was developed using Extend. ExtendSim was chosen for this task because its hierarchical nature allowed development of a modular model which was easy to explain and understand. The power of the discrete event modeling approach was observed when adding shipping and process schedule logic, determining bottlenecks in the process, and making rapid changes to the model to assess the impact of different decisions.


DTE Energy
Andy Mather, currently with The Epitec Group, learned to use ExtendSim and built a huge model for DTE that covered field, shop, office, and supply chain functions relating to electric metering equipment in just 6 short weeks. Management was wowed by the animation level of the ExtendSim model during demonstrations. But the results were more impressive. With this model, DTE was able to predict the effects of potential regulations, weather, labor rules, and staffing levels. The model accurately predicted the type, number, and severity of problems that resulted a year later!

Landmark Healthcare Study
National contract with two major healthcare organizations using RFID to track nurses at 38 hospitals across the country. The goal of the study is to analyze and find ways to improve nurses' time with patients at the bedside on medical and surgical floors. The principal investigator plans to demonstrate, through simulation modeling of existing data if the nursing care process and/or the physical space can be improved.

This project is being carried out by a consortium of experts in the medical modeling field from Purdue (conducting data analysis), a team of simulation engineers from industry, and architectural experts. This project is still in progress. Full details will be disclosed as they become available.

International Paper Manufacturer
Saves $100 million annually by improving the effectiveness of capital investments.



Semiconductor Company
Accurately simulated complex recipes and flows, allowing management to explore operating strategies. Optimized productivity resulting in a 32% reduction in cycle time.

Aerospace
Used at numerous aerospace companies like TRW on programs modeling satellites and mission data processing. One particular model simulates more than 3 terabytes of weather sensor data collected by satellites, transmitted to ground stations, and processed into science products.



Academia
Integrated in courses at the undergraduate, MBA, and executive MBA levels by prestigious universities such as Stanford and Harvard.



Fortune 100 Consumer Products Company
Saved $1 billion across operations by improving manufacturing reliability. Allowed company to introduce technology at a faster pace.



Oil Company
Validated the process design for a $5.7 billion capital project.



Public Health
Models hospital and emergency medical services throughout a major USA county.



Humanitarian Agency
Analyzes staffing levels at a refugee camp in Croatia.



Major Beverage Retailer
Simulates demand and optimizes staffing at retail locations worldwide.


Wagner SprayTech
Manages their ever-growing supply chain with an ExtendSim model showing stores, distribution centers, and assembly line constraints and delays of their consumer and professional paint application tools.



Automotive Equipment
Optimizes the design of suspension systems by comparing the model's simulated results to real-time data transmitted by sensors on automobiles.

High Speed Processing
A popular cookie producer models their packaging line to understand the dynamics and capacity of their system. Their model shows the effect of changing the speed of a piece of equipment, the failure and repair rates for that piece of equipment, the size of in-line storage, and the mixing of different products.



Legal System
Simulated arrest and arraignment procedures for a major US city's criminal justice system, resulting in more efficient processing.



Major Medical Equipment Producer
Laboratory automation equipment models allow sales forces to customize equipment for customers, increasing the rate of sales successes. Then, the customer can use these same models to replicate their operations and explore opportunities to improve testing processes in lab analysis.



Airport Security Agency
Evaluated the effects on passenger flow of new airport security checkpoint equipment and procedures.

Pulp and Paper Mill
A New Zealand mill models their integrated pulp mill, recycle facility, and sack kraft machine to determine the optimum mix of products and grades for specific economic conditions. This mill now boasts bleached softwood kraft production costs in the bottom quartile worldwide.



Information Provider
Determined how to be responsive to its Call Center customers while managing costs.

Defense Agency
Simulated fleets of cargo aircraft in a major war scenario and minimized risk to aircraft and personnel.



Pipelines
Reengineered the DOE Strategic Petroleum Reserve. Reduced expenses, decreased need-fulfillment time, and improved the storage and dissemination of information.

Defense Training
A consultant for a large defense contractor modeled a training continuum, results of which were one of the important inputs into convincing a customer that changing the training would result in increased throughput, performance and efficiencies. This lead to the customer agreeing to a changed training continuum resulting in a significant scope increase for the consulting agency.
ExtendSim model aided a defense agency to identify choke points accurately and take corrective actions. This work helped increase creditability in aircrew training.