Awards & Sponsorships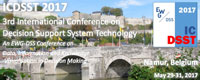 ICDSST 2017
3rd International Conference on Decision Support Technology
"Data, Information and Knowledge Visualisation in Decision Making"
29 to 31 May 2017 • Namur, Belgium

Assessing Supply Chain Risk through a Project Risk Management Approach
Mame Gningue, Daouda Kamissoko and Sonia Froufe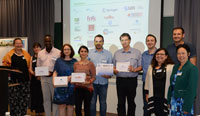 For exemplary work at the conference, Daouda Kamissoko of Ecole des Mines d'Albi-Carmaux was awarded a complimentary license of ExtendSim AT.

---

ICDSST 2016
2nd International Conference on Decision Support Technology
"Decision Support Systems Addressing Sustainability & Societal Challenges"
23 to 25 May 2016 • Plymouth, UK

Workload Reduction Through Usability Improvement of Hospital Information Systems - The Case of Order Set Optimization
Daniel Gartner, Yiye Zhang, and Rema Padman

Professor Rema Padman of Carnegie Mellon University, USA was awarded a complimentary license of ExtendSim AT for her part in the development of a heuristic solution procedure to minimize physician workload associated with prescribing order sets.

Knowledge identification, categorisation and prioritisation for ERP implementation success
Uchitha Jayawickrama, Shaofeng Liu, and Melanie Hudson Smith

Dr Uchitha Jayawickrama, Staffordshire University, UK was awarded a complimentary license of ExtendSim AT for participation in a study is to examine the effectiveness of knowledge identification, categorisation and prioritisation that would contribute to achieve ERP implementation success.

---
2015 Franz Edelman Prize Awarded to Syngenta for a Project Utilizing ExtendSim
2015 INFORMS Conference on Business Analytics & Operations Research
13 April 2015 • Huntington Beach, CA USA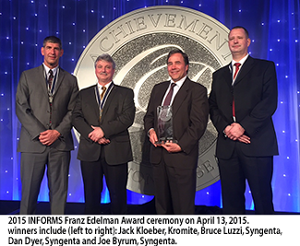 ExtendSim was one of the key tools used by Syngenta and KROMITE LLC in their award-winning project "Good Growth through Advanced Analytics" earning the 2015 INFORMS Franz Edelman Award for Achievement in Operations Research and the Management Sciences.

The "Good Growth through Advanced Analytics" program is a Syngenta soybean breeding team initiative using advanced mathematics and new technologies to develop higher yielding soybean varieties. Through increased genetic gain, the program is improving soybean variety accuracy, selection intensity, genetic variation and generation time without using more land, water or inputs.
Syngenta recognizes the positive impact these tools have on soybean R&D and is initiating a multi-year effort to customize and launch similar tools across all major crops.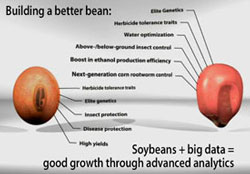 "Winning the Franz Edelman Award demonstrates the scientific excellence and leadership science is bringing to the farmer in the field," said Joe Byrum, Syngenta Global Head Soybean R&D. "It's a level of leadership that has hasn't been demonstrated in agriculture until now. We're honored to win the Franz Edelman Award... It further demonstrates the impact our Good Growth Plan is having on the world, and we're proud to share that message with the masses."

Additional information about the INFORMS Franz Edelman Award and Competition and all the finalists can be found online at https://www.informs.org/About-INFORMS/News-Room/Press-Releases/2015-Edelman-Finalists.

| | |
| --- | --- |
| --- | |