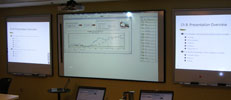 Learn how to use ExtendSim to its fullest potential, improve your modeling skills, and be more productive in your projects. After all, education is the key to advancement.
These instructor-led courses feature hands-on tasks and real-world scenarios so you can walk away with sufficient knowledge of the subject matter. These courses will show you not only which blocks to use and when, but will show you how to apply modeling concepts.
Public training courses are available in one of our regional locations, through a certified ExtendSim Trainer, or even on-site at your facility. We have the flexibility to train virtually anywhere.