ExtendSim Training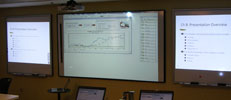 Learn how to use ExtendSim to its fullest potential, improve your modeling skills, and be more productive in your projects. Whether you're new to ExtendSim or you're an experienced simulationist or developer looking for advanced techniques, we've got a solution for you.
These in-person and online instructor-led courses teach you how to use ExtendSim to build models using real-world scenarios. These courses can also be taught at your facility with your team and tailored to your environment and situation specific needs with ExtendSim Team Training.
---
ExtendSim Public Training Courses
Note: Training dates and locations are subject to change. For additional training courses outside the USA, please see our list of Authorized Training Providers.
2020 Training Dates
Course
Location
Trainer

---

October 12 to 26
Online Essential ExtendSim Training
Online
Imagine That Inc.
November 16 to 20
Essential ExtendSim Training
Brisbane CBD, Australia
Insight Acumen

Register for online courses here...
---
Course Descriptions
---
---

Team Training Courses
If you anticipate sending 3 or more employees to a public training course, you may want to consider a Team Training. Any ExtendSim Training course may be scheduled at your convenience online or on-site at your facility (anywhere in the world) as a privately held Team Training.
Team Training allows private access to one of our authorized expert instructors for an intensive, hands-on, training that could be tailored to your environment and situation-specific needs. It's like inviting both a trainer and modeling coach to work with your team!
Contact Imagine That Inc. for a quote and to check date availability for your Team Training. (When scheduling Team Training, please be aware of our Training Cancellation Policy.)

---