Get up to speed quickly with ExtendSim training. Benefit from real-world examples and hands-on exercises as you grow in knowledge on your path to becoming an expert in ExtendSim solutions. From basic simulation modeling to courses focused on specific features; public to on-site; you will find solutions here to fit your needs.
---
ExtendSim Certified Training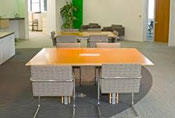 Learn how to use ExtendSim to its fullest potential, improve your modeling skills, and be more productive in your projects. Instructor-led public and on-site training courses feature hands-on tasks and real-world scenarios. Click here for more details and registration information.
---
Other Authorized Training Providers
In addition to Imagine That Inc. certified training courses, pre-approved third party vendors utilizing the same training materials used in Imagine That Inc.'s courses, offer a variety of training styles in various location worldwide.
---
Note: Although Imagine That Inc. believes all ITI Authorized Training Providers are qualified professionals, we do not warrant or guarantee the quality of their work. Imagine That Inc. is not responsible for any errors or the actions of these independent service providers.