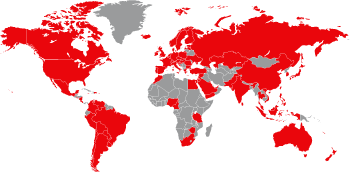 ExtendSim is being used in almost every country worldwide! We are very fortunate that in many of these countries we have highly skilled and knowledgable Distributors and Authorized Value Added Resellers VARs). These companies serve as local contact for ExtendSim sales, upgrades, support, training, and consulting.
Authorized ExtendSim Resellers
North America & South America
Imagine That Inc.
www.ExtendSim.com
Headquarters
France, Austria, Belgium, Germany, Greece, Italy, Portugal, Spain, & Switzerland
1Point2
www.1point2.com
Distribution Outlet
Scandinavia (Denmark, Norway, Sweden) & Finland
DUKE Systems AB
www.duke.se
Distribution Outlet
China, Hong Kong, & Macau
Henan Saizhinuo Technology Co., Ltd
www.saizhinuo.com
Distribution Outlet
In all other countries not listed here, purchase ExtendSim through the ExtendSim Store or directly from Imagine That Inc. in San Jose, CA USA.
---
If you are a software vendor or consultant interested in reselling ExtendSim products, please contact Imagine That Inc.