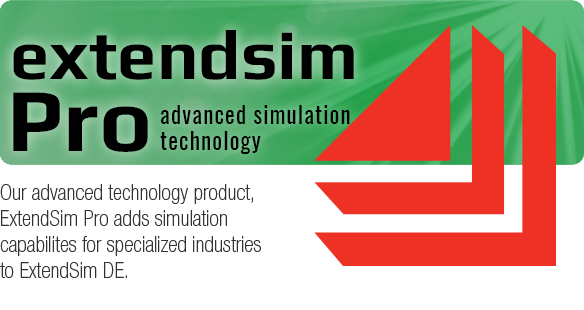 The ultimate simulation tool! ExtendSim Pro adds discrete rate, reliability block diagramming (RBD), and other advanced modeling technologies to ExtendSim DE.
---
Advanced Simulation Capabilities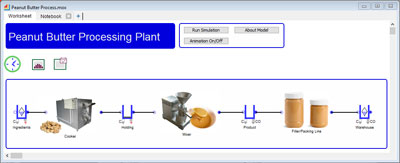 This package offers advanced technology that goes beyond the typical continuous or discrete event modeling capabilities of other simulation applications. It adds:
Discrete Rate Module — to simulate systems that involve tanks, levels, and valves, plus modeling of the storage and rate-based movement of system components.
First of its kind Reliability Block Diagramming (RBD) tool that forms a powerful synergy between the process simulation power of ExtendSim and detailed reliability analysis offered by reliability block diagramming. The Reliability module can be used as either a standalone RBD tool or in conjunction with ExtendSim process simulation capabilities.
The Excel Add-In for ExtendSim databases allows you to completely specify a new ExtendSim database in Excel, including parent/child relationships, cell randomization, named distributions, and more. Then export the database for use in ExtendSim models.
Stat::Fit® (from Geer Mountain) to determine which distributions, if any, offer a good fit for the underlying data.
Connectivity with Oracle — import data from or export data to an Oracle database.
Plus, all the features and capabilities of ExtendSim DE and ExtendSim CP.
---
Uses

Airplane and Automotive

Bottling Plants

Call Centers (high volume)

Chemical Processes

Distribution Logistics

Food Processing

Mining

Networks

Oil and Gas

Packaging Lines

Paper Flow

Pit-to-Port and Ship-to-Shore Modeling

Production Lines

Rate-Based Systems

Reliability Engineering

Security

Service Centers

Spare Parts Inventory Management

Transportation and Traffic Systems

and much more.
---
---
Support & Upgrades
Maintenance & Support Plans are required for all Model Developer Edition packages and must be renewed on an annual basis to continue receiving support, upgrades, updates, discounts, and other special offers.
---
Try ExtendSim Pro

Download and experiment with ExtendSim Pro for 30 days for free! Join the thousands using ExtendSim to solve complex simulation problems. Explore how to create models and interfaces with a Trial version, change values and settings, run simulations and animations, perform experiments, do analysis and optimization, save and export results.
---
Purchasing...
Individual and Node-Locked ExtendSim Pro Licenses

ExtendSim Pro Individual and Node-Locked licenses may be purchased and downloaded through the ExtendSim Store, ordered directly through Imagine That Inc., or from your local ExtendSim reseller.
A Floating License of ExtendSim Pro

As Floating licenses must be customized for specific concurrent usage, they must be purchased through Imagine That Inc. or one of its distributors (Activation keys for Floating licenses are not available in the online store.) In the US, Imagine That Inc. is the sole source for Floating licenses. Outside the US, please contact your local ExtendSim Distributor.